Curly hair can be quite tricky to maintain in good condition. There are lots of things you have to watch out for when you're washing, conditioning, styling, or drying your curly hair. Whether you want to keep your curls from entangling, maintain them in their current shiny and gorgeous state, or make them even curlier, everything you do with them matters. This usually goes double for drying.
So, what is the best way to dry curly hair? Everyone's hair is different so we'll go over the 8 main ways below and explain how to do them and what they are best for.
How to diffuse dry curly hair?
Diffusing your hair is one of the fastest drying methods and it's also good if you're looking for some extra volume. Curly hair can sometimes take hours to air dry and we don't always have that. So, putting a diffuser attachment on your blow dryer is a good way to do the job quickly.
It is important to use low heat when you're using the diffuser attachment, however, as curly hair is very susceptible to burn damage. Also, if you are going to use a diffuser, remember to use it evenly on all sections of your hair. There's no point in drying your hair unevenly, it will only leave it looking weird.
How to blow dry curly hair?
Now that we got the diffuser out of the way, let's see how to blow dry curly hair without a diffuser. With or without a diffuser, using too much heat can be devastating for curly hair so make sure you're using the lowest heat setting on your device.
For curly hair, it's generally recommended to use blow dryers in the 1300-1874 watts range with multiple heat and speed settings, as well as a cool shot function.
Another tip for when you're not using a diffuser is to keep your hair steady with your other hand. Blow dryers tend to throw your hair every which way when you're not using a diffuser.
Using thermal protectants and anti-frizz products is also a good idea.
Should you use a hooded drier for curly hair?
Hood dryers are another quick way to get the job done, especially if you want to do additional things with your hair such as roller sets, twist outs, etc. They are quite a costly investment, however, and they do take a lot of space.
Plus, you need to make sure that the blow dryer is of high enough quality and that you use it with the right heat setting for your curls. A sub-par quality hooded dryer on the wrong setting can do a lot of damage to your hair very quickly so always choose high-quality.
How to "plop" your hair?
A good and safe way to towel-dry curly hair is to "plop" it. This is a tried and tested technique that's also quite simple. All you need is an old and used (but clean!) t-shirt or a microfiber towel.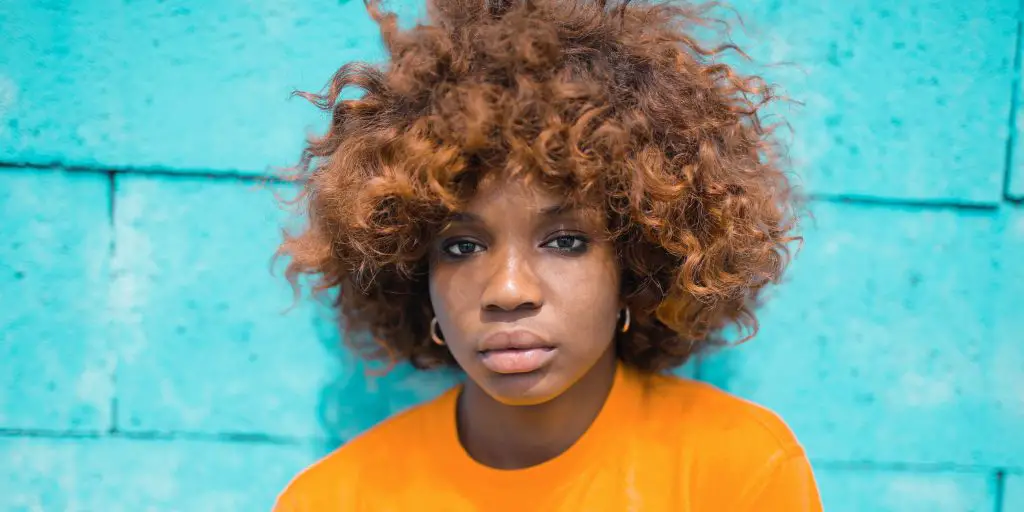 Lay it straight on a table (if it's a t-shirt, make sure the sleeves are folded and are facing up) and flip your head forward, laying your curls flat on top of the fabric. Make sure your curls are straight but relaxed and that they parallel to the towel's length. Then, just gently roll the towel with your hair in it toward your scalp. Fold it to the base of your neck and then tie it either with its own sleeves or with something else.
Plopping your hair like that is both a quick and safe way to towel-dry curling hair without entangling it or creating any frizz.
Clipping curly hair at the roots
If you have extra bouncy curls but flat roots, this can prevent them from drying for a long time. To fix that, you can simply lay your head to the side to lift it away from your scalp and clip the roots of your hair with duckbill clips.
Make sure that the mouths of the clips face away from the roots and leave them like that for at least 15 minutes as you're drying your hair. Do this for all sections around the crown of your head – this simple trick will help your roots dry as fast as the rest of your bouncy curls.
Does "stretching" curly hair work?
Many people like styling their wet curly hair into different stretched styles such as Bantu knots, bands, twists, and braids. This is usually done to help stretch your hair's natural texture as it dries.
It's a good heatless technique to stretch your hair, plus it prevents breakage and damage. However, it doesn't really help your hair dry faster if that's what you're looking for.
How to air dry curly hair?
The easiest and healthiest but also the slowest way to dry your curls is to just let them air dry. It's still a good idea to slightly plop your hair before that as well as to apply a leave-in conditioner immediately after that.
Aside from that, however, all you need to do is to just let your hair dry on its own. Keep it away from any physical damage and contact with other items and don't touch it until it's completely dry to avoid entangling and frizz.
Everyday items and ways to dry your curly hair
If you don't have time to air dry and you don't want to risk using a heated blow dryer, another thing you can do is to just use the AC in your car, a space heater in your living room or a simple room fan. This doesn't mean getting your hear right in front of the AC or the heater, just let your hair air dry near a ventilating device.
Obviously, you'll need to be careful not to get a cold from the AC or the fan but using such everyday items can speed up the "air drying" process quite a bit. The great thing about your car's AC is that you can do it as you're going to work, which can save you even more time.