The world of hair extensions is quite big and often overwhelming. There are clip-in extensions, tape-in or glue-in extensions, sew-in or weave extensions, as well as a myriad of other subcategories.
Assuming you've already chosen your preferred type of extensions, however, the next question is how should you maintain them. Can you wash hair extensions and how? Here's our guide for washing the three standard types of hair extensions.
How to wash sew in hair extensions?
Knowing how to wash hair extensions sewn in is the same as knowing how to wash your weave as they are essentially the same thing. As the extensions are sewn in you'll need to wash them as you would normal hair but with a few extra steps: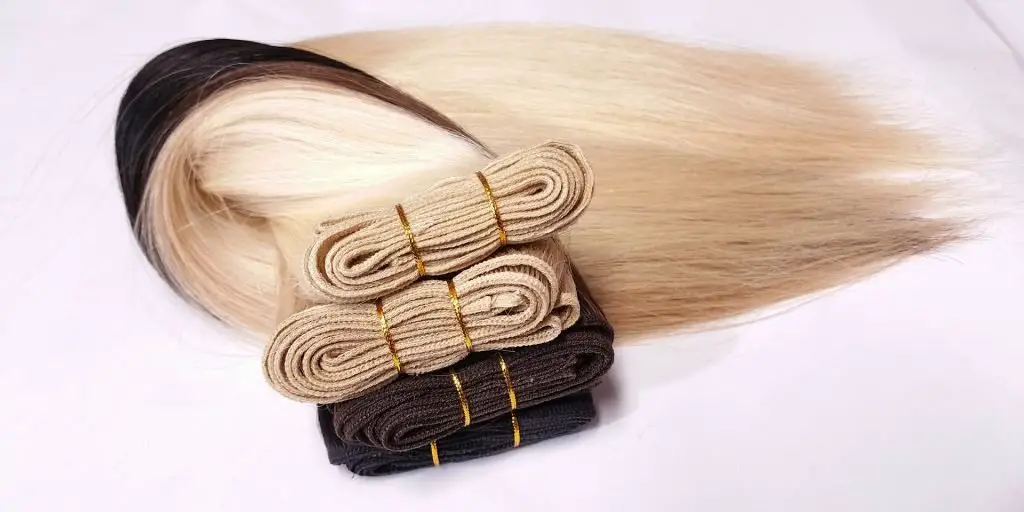 Apply a moisturizer oil first. Because sew-in weaves don't get any moisturizing oils from the scalp as standard hair does, you'll first need to apply a little hair oil first to moisturize them and avoid breakage. Just apply some hair oil, put on a shower cap on top of your weave, and give the oil about an hour to set in.
Clarify your hair and scalp. After the oil has set in, fill a spray bottle with 50% water and 50% apple cider vinegar. Spray it on your scalp section by section and massage your scalp with your fingers. Leave the spray on for about 5 minutes and then rinse it carefully with warm water. This is done to remove built-up hair products and prevent dandruff. Fortunately, it doesn't need to be done every time – once a month is usually enough.
Wet your hair and gently apply the shampoo of your choice. Use either a shampoo that's made for sew in hair extensions or any mild shampoo that won't harm your weave.
Condition your weave with a deep conditioning moisturizer again. Leave it in for 15 to 20 minutes before rinsing it off with warm water.
Carefully towel and air dry your sew in weave.
How to wash tape in hair extensions?
Next, let's see how to wash human hair extensions that have been taped in. Also called glue in or keratin-bonded extensions, washing tape in extensions is a fairly simple ordeal but it still needs to be done with care: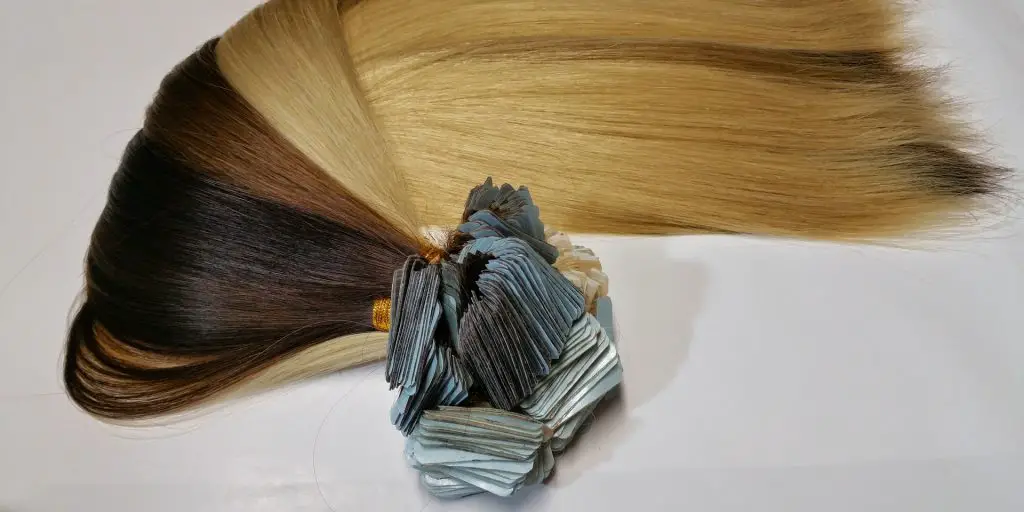 Carefully wet your hair with warm but not hot water.
Shampoo your hair with a shampoo that's designed for tape in extensions. If you can't find a shampoo specifically for your extensions or you're not sure what to use, go for a mild moisturizing shampoo with no sulfates or silicone. Apply it carefully and then rinse it off with warm water.
Apply a conditioner and rinse that off after a couple of minutes as well. Hair extensions don't get the natural oils from your scalp standard hair does so you should definitely moisturize them with a conditioner every time you wash them.
Wash your extensions this way 2 or 3 times a week.
How to wash clip in hair extensions?
Clip in extensions are unique in that they can be easily removed and reattached at home. This makes them much easier to wash and clean. All you need to do is:
Remove the clip in extensions.
Detangle them with a wide-tooth comb as you would normal hair.
Fill a clean basin with luke-warm water. Avoid using hot water as it can damage the hair extensions but don't use cold water either as it's ineffective for cleaning up grime and shampoo.
Soak the extensions in the basin without dipping the clip in. Run a comb or your fingers through the extensions to make sure they are properly wetted.
Use a gentle and moisturizing shampoo that's free of any sulfates. Again, avoid getting any water or shampoo on the clip itself.
Rinse the extensions with warm water.
Apply a moisturizing conditioner.
Hang the extensions to dry. Do NOT use a blow-drier – just give your clip in extensions enough time to dry off on their own.