If you're choosing between the many different types of hair extensions, here's our quick guide the pros and cons of all popular hair extensions methods.
Tape hair extensions pros and cons
Tape in is one of the most popular types of hair extensions but they are not without their drawbacks. Here are the main tape in extensions pros and cons you'll need to keep in mind:
Pros:
Quick and easy to apply – ~30 minutes for volume applications and ~60 minutes for full-length tape ins.
No need for heat or additional tools.
The safest of the main hair extension methods.
The extensions are reusable and can last for months with the proper maintenance.
The panels lay flat on the head and are virtually undetectable.
Cons:
These extensions need 24-48 hours of no washing or sweating in order for them to adhere properly to your hair.
You can't use any silicone or oil-based products with these extensions.
Micro bead hair extensions pros and cons
The pros and cons of micro bead extensions are similar to the micro loop hair extensions pros and cons and the I tip hair extensions pros and cons because all three are ways for the hair to be pulled through small locks or beads and then clamped shut.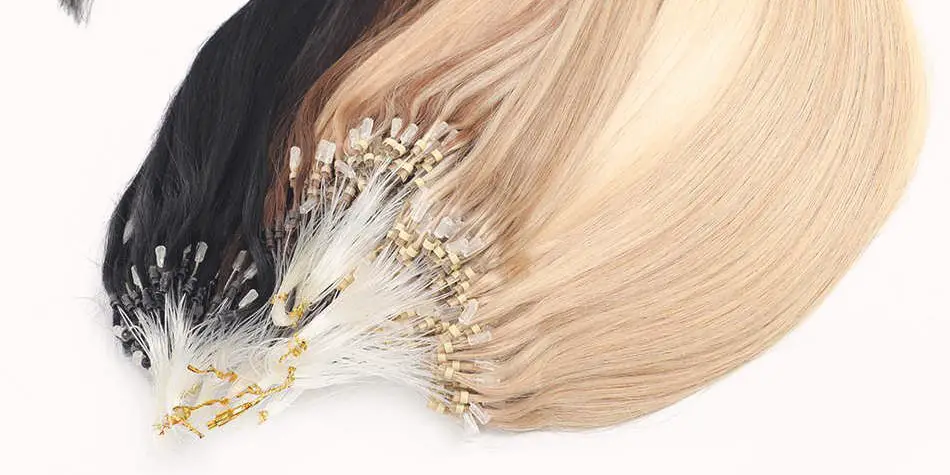 Pros:
These methods allow individual hair strands to move more naturally.
Micro bead, loop or I tip hair extensions are reusable. Even if some of them have slid down or off they can still be fixed by an experienced technician.
There's no need for heat or glue with these hair extension methods.
Cons:
The application of these hair extensions can be time-consuming as it can take anywhere between 2 and 6 hours.
Some people experience itchiness or discomfort within the first couple of weeks.
There's a steep learning curve to the application of these methods. When done incorrectly they can cause damage and hair breakage so you should always work with experienced technicians only.
If the beads or locks aren't placed adequate they may be visible or slip off more easily.
Keratin hair extensions pros and cons
The pros and cons of keratin hair extensions overlap with hot fusion hair extensions pros and cons.
Pros:
These are the most suitable methods if your hair is thick and coarse.
These extensions look very natural and are indistinguishable from natural hair for all but hair care professionals.
These are very durable hair extensions methods and can last for over half a year with the right care.
Cons:
Keratin and hot fusion extensions are not reusable.
The application is quite time-consuming and can take between 2 and 6 hours.
These extensions need heat to be applied which can be tough on your hair.
Some people experience discomfort and itchiness in the first couple of weeks after the application.
There is a high learning curve to how these extensions are applied so you'll need to make sure the technician you're working with is up to par.
Sew in hair extensions pros and cons
Sew in or weave hair extensions are similar to tape in extensions only they are sewn into the client's braided hair.
Pros:
A great hair extension method for people with coarse and thick hair.
Sew in extensions can't slip off unless the braid becomes loose so you can use silicone and oil-based hair products.
There's no glue or heat in the application of these extensions.
Cons:
Applying these extensions can take several hours.
There aren't too many hair styling options with sew in extensions.
If the braids are too tight they can cause tensions or traction alopecia.
The hair extensions need to be washed regularly or they might cause infections.
Because of the braids, these extensions can cause headaches for some people after the application.